Welcome To

Carpet Corral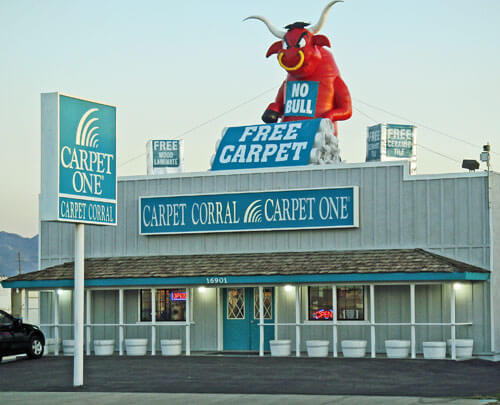 High Desert's Premier Flooring Supplier.
Carpet Corral is a retail flooring store in Hesperia, California. If quality and savings are important to you, then this is the place you need to check when you need flooring for your home or business. We invite you to stop by and view our samples of your favorite flooring selections. We have over one million square feet of flooring in stock and ready to install.
Our stock is priced to sell, and you'll find many attractive styles to choose from. Our carpet styles include solids, prints, berbers, shags, and more. We also carry carpets that can be used for commercial use or outdoor spaces. We also have wood and laminate flooring in many styles and finishes, and you'll find a huge selection of ceramic and porcelain tiles.
Nobody Beats Carpet Coral. Click To See Wild Bill's Cheat Sheet Real Time Inventory
Same Day

Installation
Over 1 Million Square Feet In Stock
With our huge inventory the odds are that we'll have exactly what you want already in stock and ready for delivery anywhere in the high desert area.  Come to our showroom where we have 1000's of samples & tons of inventory that you can touch, feel, and see to match what you looking for.  Our expert installers are always ready, often for same-day installation.  Despite our low rates we don't cut corners.  We'll make sure that the sub-floor is in proper condition before placing padding or other underlayment.  We'll then work efficiently but not hurriedly for fast installation to keep disruption to your life to a minimum.  And we'll wrap up with all the proper trim, molding, and other details.
Our

Brands