Top Quality Area Rugs At Affordable Prices

Carpet Corral Has The Best Selection In Area Rugs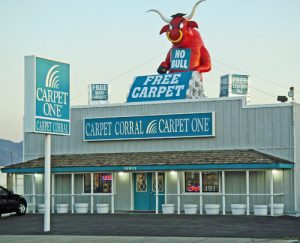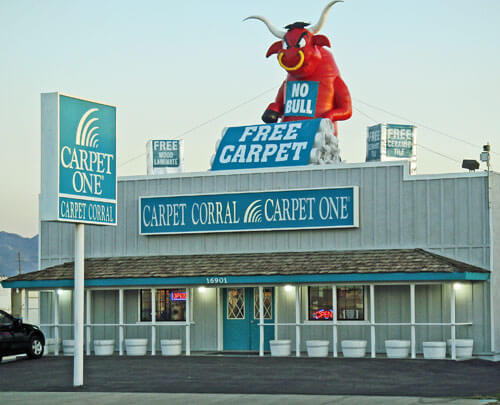 Are you thinking about area rugs?  Whether traditional, oriental or Persian, or a modern contemporary design, area rugs can be the perfect addition to your home decor.  They bring color and texture to any room and highlight any style and mood.  We're a retail flooring store serving homes in businesses in the greater High Desert area with a showroom in Hesperia.  Family owned and operated since 1965, we'll help you find the perfect area rug to compliment your hardwood, laminate, or tile floors.  From a simple bath mat to the centerpiece of a formal dining room we deliver affordable quality.
How It's Made Matters, But Not the Way You Think

Whether you're after a designer look to perk up or refresh a room or simple creature comfort we'll help you pick out the perfect rug.  Your biggest decision is between a traditional hand-made rug and a manufactured one.  While handmade is wonderful, it's expensive and the natural fibers it's made of (typically some combination of wool, silk, and cotton) requires extra-special care.  Plus traditional Persian rugs and oriental rugs are always rectangular and only come in a very limited number of standard sizes.
We stock the best combinations of quality and cost.  Today's machine-made area rugs can be great duplicates of traditional designs or follow modern patterns with a top-quality look at much lower prices.  Synthetic fibers such as olefin (polypropylene, that looks much like wool) and nylon are durable and much easier to care for.  And you'll have a much wider choice of shape, size, color, and design.
Wild Bill Beats Any Deal In Town! Call Us Today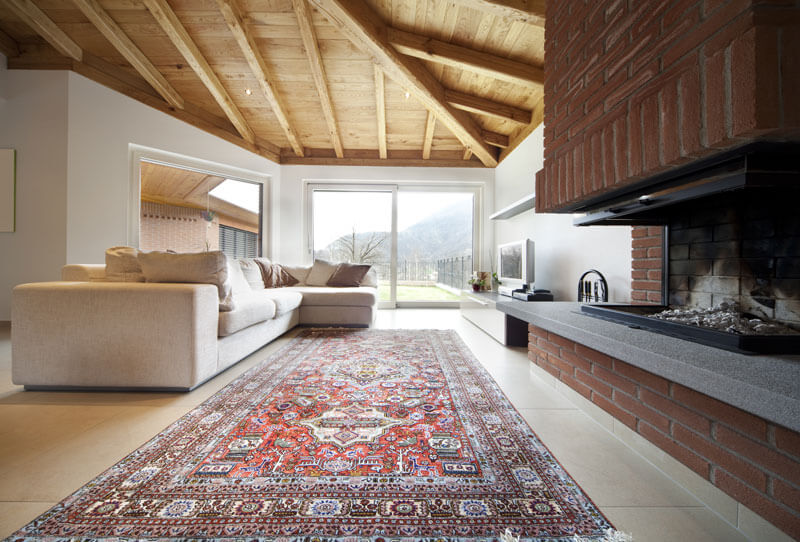 Before You Buy
With so many options you need to think through exactly what you're after.  First there's purpose.  Do you want to define a space for conversation, eating, or children's playtime?  How should it fit into your home decor?  It could be highlight or accent focal point… or a foundation for bringing your color scheme together.  Are you after a traditional or formal look… something modern… or something casual?  Or perhaps just a warm area for your kids or even a special spot for the family pet.  How important are softness, warmth, and sound absorption?  Does the area your planning have lots of foot traffic, or only occasional use?
Now that you've gotten the big picture our showroom staff can help with some of the remaining details in selecting your perfect rug.
Size and Shape For rectangular shapes the most common sizes are 2 by 3′, 4 by 6′, 5 by 8′, 6 by 9′, and 8 x 10′.  Other shapes include square, round, oval, and octagon.  Runners are long thin rectangles for places such as hallways.
Construction can range from flat woven to deep luxurious shag.
Styles can be traditional, floral, contemporary, or modern.  For pictorial patterns consider themes such as plants and animals, or the alphabet for kid's rooms.
Color You can match, balance, or contrast with other colors in the room.  You can go for loud and bold, tranquil, warm or cool, and much more.
Pattern  The basic categories are "curvilinear," geometric, and pictorial.  The design can cover the entire rug, or just the center (called medallion) with solid, simple, or elaborate borders.
Visit Carpet Corral Today For A Design Consultation

Area Rug Delivery
Wasn't the whole idea that they are easily moved?  We'll, you shouldn't just casually toss down a quality rug.  Our area rug installation takes care of transportation and assures that there's proper skid-resistant padding under 95% of the area.  Underlayment keeps the rug in place, protects the floor underneath, provides better vacuuming, and helps prevent slip-and-falls.  We serve Apple Valley, Barstow, Hesperia, Victorville and surrounding areas.
Rug Care
Not much special care is needed for area rugs made of synthetic fibers.  You should immediately blot spills, then rinse and blot again.  Do not rub or scrub, and never use bleach.  For most areas you should vacuum twice weekly, but as often as daily in high-traffic areas.  You should have your area rugs professionally cleaned by hot-water extraction methods every few years.  But if you even suspect that there might be natural fibers be sure you're calling an expert in fine rug cleaning.
Handy Tip:  As long as it's not made of natural fibers, 1/4 teaspoon of clear dish-washing detergent in 1 quart of water is a great rug and carpet cleanser.
Another Tip:  For the long cable yarn in shags, disconnect or otherwise turn off the beater-bars and brushes on your vacuum.  Set it to the lowest height setting for good suction.
Nobody Beats

Wild Bill's Prices