Same Day Installation. Huge Tile Selection

Carpet Corral Has The Best Selection In Tile Flooring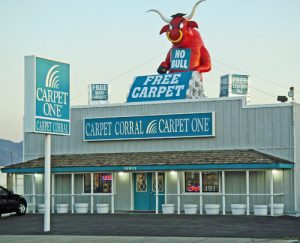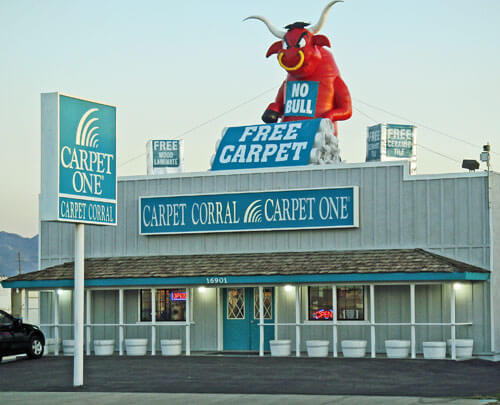 When it's time for a new floor it's time to think about tile flooring.  Not remodeling a bathroom?  Ceramic tile and porcelain tile floors are also wonderful for kitchens, mudrooms, end even grand entry ways.  One of the most durable types of flooring there is, they're ideal for high-traffic areas and anywhere dampness can be present.  Tile floors can be gorgeous and stunning, or cozy and comforting.  We combine quality and savings, so come visit us at our Hesperia location a short drive from Barstow, or Apple Valley.
Family owned and operated we've been in business for over 50 years, becoming the trusted name in the area.  With the largest inventory around, we're bound to have what you're looking for.  And we'll be happy to help you narrow down your choices based on your budget, needs, and taste.
A Designer's Choice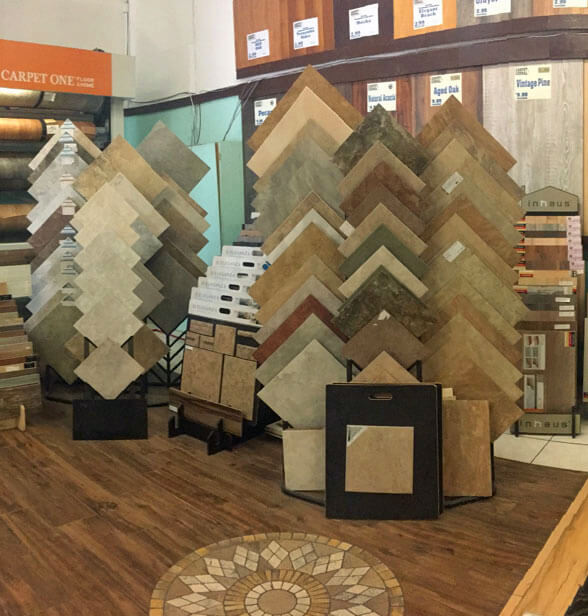 Tile flooring offers a seemingly endless array of shade and texture variations in incredible patterns.  Yet it's amazingly practical.  Layouts can range from simple to complex, from uniform to stunning combinations of color, shape, and size.  Colored grout makes for even more combinations.  Pre-patterned mats of multiple tiles offer unique looks at greatly lowered installation costs.  And with skilled installation tile can last a lifetime.
Its incredibly flexible in setting style, tone, and mood.  How about a country cottage?  A striking Italian villa?  Or chic and sleek with a modern monotone or dramatic with alternating high-contrast colors?
Size is often part of a trade-off of materials versus installation cost.  Porcelain and ceramic tiles come in a wide range of sizes.  Large format tile can be used to connect and flow spaces together, and some products eliminate grout joints.  Smaller tiles are best for smaller spaces, including showers and baths.
Besides the most popular types, ceramic and porcelain, there are also cement and concrete as well as glass mosaic floor tiles.
Wild Bill Beats Any Deal In Town! Call Us Today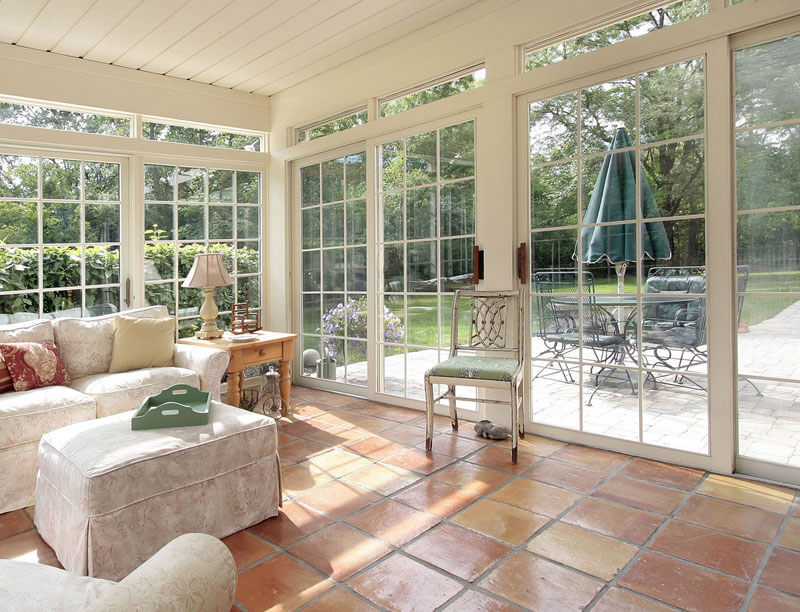 Practicalities to Consider
When choosing which type of tile to use there's also a couple of somewhat technical issues to consider.  Just call or drop by any of our Apple Valley, Hesperia, or Barstow locations if you have any questions.
Shade and Texture Variation
Made from natural materials there will always be some variation in shade and texture, but some brands and lines vary more than others.  That's described on a scale of low (very consistent), moderate, and high.  "Random" has very high variations in shade and/or texture.  Whatever you choose, it's best to have all tile form the same manufacturing lot.  If  not, you or your installer should be sure that all boxes are mixed together so there's no areas that stand out as different.
Absorption Ratings
Moisture absorption is also an important factor.  Obviously, the lower the better for shower floors, bathroom floors, and other wet, damp, or humid areas.  Here are the key classifications.
Non-vitreous can absorb 7% or more of its weight in moisture
Semi-vitreous can absorb 3 to 7%
Vitreous absorbs less than 3%
Impervious absorbs less than 0.5%
Installation
We provide expert tile installation services throughout the greater Victorville – Barstow area. For professional tile floor installation you should allow at least 2 days of not using the room and in some cases 3-4 days.  But once the room is finished you'll have a super long-lasting low-maintenance floor.
Visit Carpet Corral Today For A Design Consultation

Glazed Ceramic Tile
Made from clay and fired with a ceramic coating, glazed ceramic tile's natural materials make it eco-friendly.  It's water resistant, fire resistant, and simply beautiful.  With sealed grout a ceramic floor doesn't retain bacteria or allergens.  It resists stains, odors, and dirt so it's easily kept clean with a damp mop or sponge.  Scratch and wear resistant, it can handle the heaviest traffic areas.  And it outlasts pretty much everything else.
Our Apple Valley, Hesperia, and Barstow showrooms display a huge range of textures, colors, shapes, and gloss levels (finishes) to establish just about any mood, and work with just about any style.  Ceramic tile is used for everything from the simplest bungalow to the finest mansions.  Create an area that's quiet and contemplative, add country charm, or create a space of modern elegance.
Insider Tip:  Through "thermal mass cooling" shaded tile keeps a room cooler in the summer.  And if a tile floor is in direct sunlight a few hours during the day it provides "passive solar heat" in the winter.
Porcelain Tile
Also made from clay, porcelain tiles are basically the same as ceramic.  But porcelain uses finer clays and is fired at higher temperatures.  That makes it harder, denser, and less porous.  So it's more stain resistant and absorbs less moisture.  There's the famed Italian porcelain, but also modern "domestic" products, including those that look like cement (for those into high-tech), natural stone, wood, and even fabric.
Care and Maintenance for Tile Flooring
Your new tile floor will be durable and long lasting (literally centuries) but still, needs a little maintenance to keep it looking at its best.  For routine housekeeping, it just needs to be swept, and
damp-mopped about once a week.  Detergents and soap dull the finish and promote mold.  Use only neutral pH cleaners and never use acids (including vinegar), bleach, or ammonia.  Sealed grout and even glazed tiles are slightly porous, so promptly wipe up any spills.
It's also necessary to keep the grout sealed and edges caulked.  Many businesses and homeowners prefer to call in a professional service for that.  For the best in appearance, our professional tile & grout cleaning and sealing should be called in about once a year.