Same Day Installation. Huge Hardwood Selection

Carpet Corral Has The Best Selection In Hardwood Flooring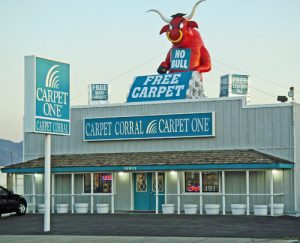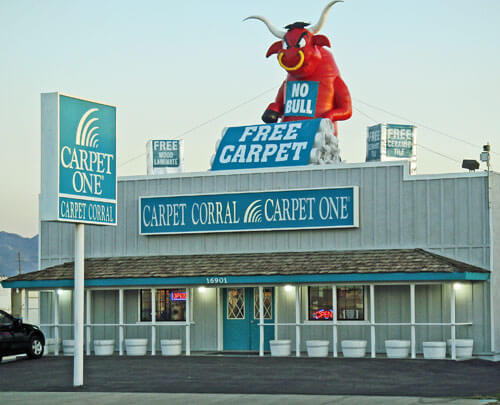 There's nothing like the gorgeous beauty of natural hardwood flooring.  Never out of fashion, it fits with any style and decor and can last for generations.  Are you ready to add to the character, warmth, and value of your home?  Then it's time to visit our Hesperia showroom.  We're a retail flooring super-store with expert installers serving the area since 1965 — that's over a half-century!  We maintain a huge inventory for fast installation at surprisingly reasonable prices.
Did you know that 90% of real estate agents say that homes with hardwood flooring sell faster and at higher prices?
About Hardwood Flooring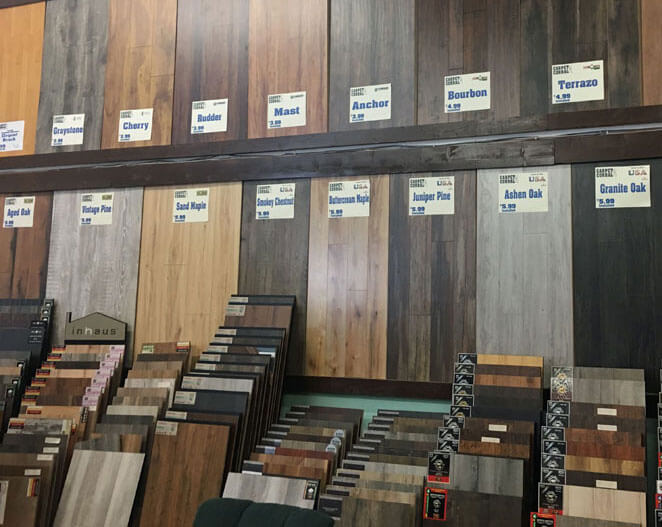 Solid hardwood flooring has a natural appeal like nothing else.  Its unique rich characteristics make it a timeless classic.  It even sounds great when you walk on it. It's renewable, recyclable, and leads to fewer allergens in your home.  Soft woods like pine easily scratch and dent, and simply can't tolerate pets or spiked heels.  But hardwoods do, and they're available in an amazing range of colors and textures.
Typically 3/4″ thick, genuine solid hardwood floors are wood through and through.  Stylish options cover the spectrum from subtle to bold shades.  Oak, maple, and cherry are the most common species for wood floors but your options also include walnut, birch, beech, ash, and elm.  There's exotic woods such as teak, mahogany, Brazilian cherry, tigerwood, iroko, obeche, meranti, and sapele (some less practical as flooring than others).  There's even more design options when you consider different stains and finishes.  Although technically a grass, bamboo flooring has the same benefits and qualities as hardwoods and it can be left natural or given just about color of stain.
Wild Bill Beats Any Deal In Town! Call Us Today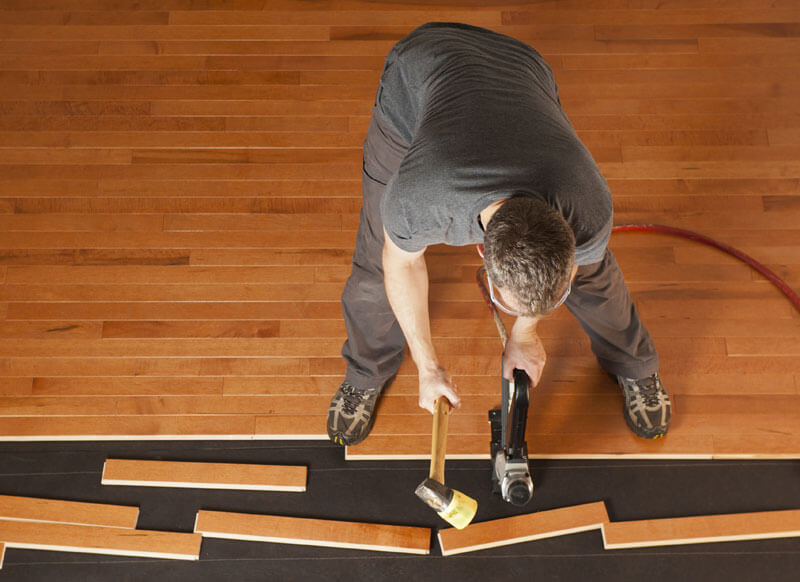 Wood Flooring Installation
Hardwood flooring clearly calls for professional installation.  Our experts are ready to help you select the perfect floor at any of our showrooms — Hesperia, Apple Valley, or Barstow.  And our experienced flooring installation experts are available for wood flooring installation throughout the greater Victorville and Barstow areas.  You can count on our dependable crews to arrive right on schedule.
Our crews will remove any existing flooring and take care of any necessary sub-floor repairs.  For solid wood floors they'll then nail or staple your new floor to the underlayment with expert craftsmanship.  Engineered hardwood flooring is either glued in place or left "floating."  With pre-finished wood flooring products that almost completes the job.  For unfinished products we'll apply one or more coats of finish providing protection and the level of gloss you're after.  Finally, there's trims & moldings installation.
Visit Carpet Corral Today For A Design Consultation

Engineered Hardwood Flooring
Trying to decide between laminate and hardwood flooring?  Engineered hardwood delivers the best of both worlds.  It's made of sandwiched layers of real wood, with no faux finishes.  Engineered hardwood flooring is easier to install and better resists shifting with temperature and humidity.  It's the only type of wood flooring suitable for basements.  It lasts a lifetime even in high-traffic areas, and is available in pre-arranged parquet patterns.
Care and Maintenance
Wood floors are low maintenance, with cleaning quick and easy.  You do need to wipe up spills immediately, as with most types of floor coverings.  Other than that it's just sweeping and vacuuming.
There are a few care and maintenance precautions to attend to.  If you have pets you'll need to keep their nails trimmed.  It's also a good idea to place mats at the entrance to intercept dirt, sand, oil, and grit as well as at heavy-use areas such as in front of the kitchen sink and bathroom vanities.  You should put felt or protective pads on furniture, especially heavy furniture, and lift or use a dolly rather than sliding furniture.  Anything with casters, such as office chairs should be on a mat or have their metal or plastic casters replaced with soft rubber.  You'll also need to protect your new floor from the heat and UV rays of direct sunlight with appropriate window coverings.
Wood floors are also sensitive to dry conditions, which surprisingly occur most often during the winter heating season.  Use a humidifier if indoor relative humidity drops below the 35 to 55% range.
TIP:  Humidifiers also make your home feel more comfortable.  And dehumidifiers add to comfort and reduce the odds of developing a mold problem.
There's also a few things you shouldn't do.  Don't wet or damp mop, and turn off any beater bar or rotary brush on your vacuum.  Nor should you use steam cleaner or other floor-cleaning appliances.  With today's finishes providing protection and sheen you should not use any kind of wax or buffing machines.  Likewise no oil soaps (including those with citrus, lemon, or silicone oils).  Never use ammonia, steel wool, or metal scouring pads for cleaning or any combination of cleaner plus polish.
That may seem like a lot to keep in mind, but once everything's properly set up you won't have to think much about protecting your investment.  There's no need to become paranoid about the care and maintenance of your wood floors.  One of the reasons they can last for generations is that they can be repaired.  Starting with a full 3/4″ thickness uneven wear, scratches, and even minor gouging, cupping, and warping can be sanded out and the floor refinished.