Same Day Installation. Huge Laminate Selection

Carpet Corral Has The Best Selection In Laminate Flooring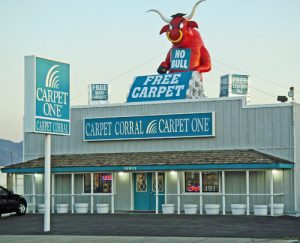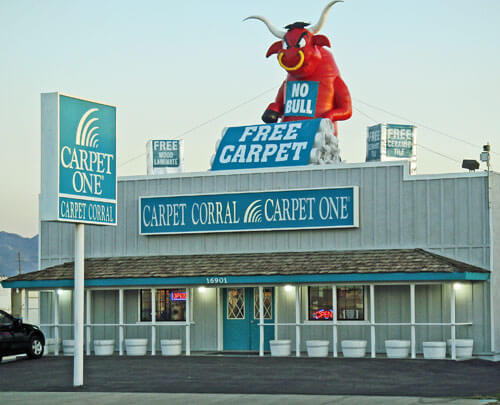 Are you considering laminate flooring?  It's a budget-friendly way to get the look of wood floors but with even greater durability.  And premium brands of laminate floors are a rapidly-growing as a first-choice in flooring.  We've been in business at the same Hesperia, California location since 1965, and have additional showrooms in Apple Valley and Barstow.  A retail flooring center, we maintain a huge inventory of Pergo and many other leading brands of laminate flooring.  So whatever style and design you choose, the odds are we already have it in stock.  We also offer expert installation services.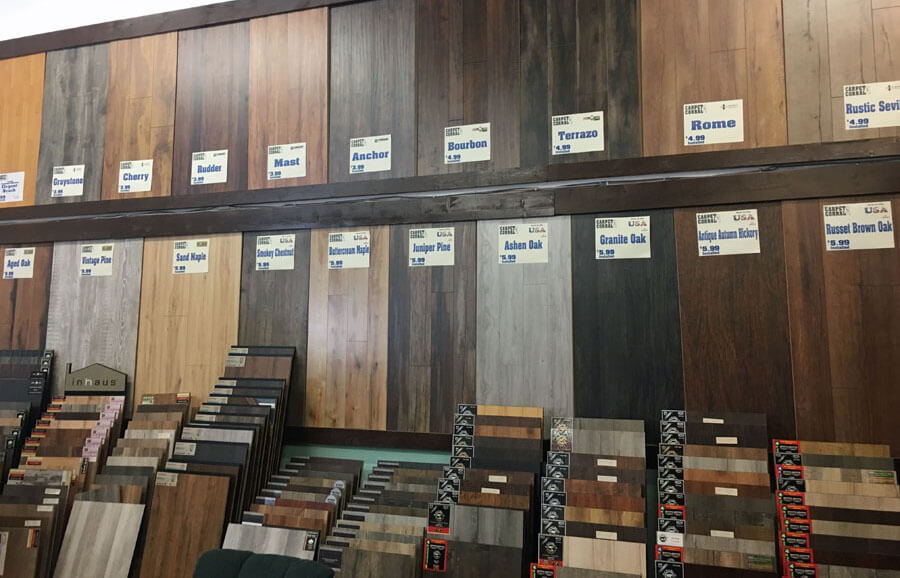 About Laminate Floors
You'll find a wide range of prices, grades, colors, and textures to choose from.  They're stain, fade, dent, scratch, and wear resistant for a long and attractive life, with minimal floor care and maintenance.  Combined with ease of installation that makes them a great choice for homes (especially those with kids and pets) and businesses alike.  Leading brands have 20, 25, and sometimes even 30-year warranties.  Premium brands offer stunning looks, even greater durability, and resist fading even in direct sunlight.  Some even have an anti-microbial lower layer.
Also called floating wood tile, laminates are simulated wood flooring.  They were first invented in 1977, followed by glueless technologies in 1997.  Since then there have been continued improvements and innovations.  The word "laminate" refers to fusing multiple layers together with pressure, heat, and adhesives. One key feature is it's tongue-and-groove locking system — each piece clicks into what's already been laid down.
Those Layers
After 40 years of development, design and manufacturing have become quite sophisticated.  Here are the various layers, going from top to bottom.
clear aluminum oxide providing protection against impact, scratches, burns, stains, and wear
decorative surface, a thin photographic layer offering incredible variety
main core of wear-resistant melamine plus aluminum oxide
moisture tolerant fiberboard or other composition
balancing backing to provide leveling and a bit of give
Altogether those layers add up to 1/4 to 1/2 inch total thickness.  Thicker products are more stable and sound more like real wood floors when you walk on them.  The same goes for high pressure laminates.
Wild Bill Beats Any Deal In Town! Call Us Today
Laminate Floor Installation
Laminate floors can be install over just about anything except carpet.  That includes concrete slabs, sheet vinyl, ceramic tile, and hardwood flooring.  Today's products "float" without being glued to the sub-floor.
After removing baseboards and optionally removing the existing floor covering and thoroughly cleaning the surface, installing a laminate floor begins with laying down a vapor barrier for ground floors.  After cutting to length you then carefully align each plank, snap it into place, than tap to close any gaps.  Since the floating floor expands and contracts with temperature changes there should be a 1/16 to 1/4 inch gap between the laminate floor and the wall (depending on the size of the room and the product itself).  Replacing baseboards to cover that gap finishes the job.
The relative ease of installation lets many homeowners take the do-it-yourself approach.  But cutting can get tricky, especially around cabinets and at doorways, and may require special saws.  Stairs and various edges also need special trims and moldings.  So many people choose professional flooring contractors such as the experts at Carpet Corral for a fast, worry-free project.  We serve the entire Apple Valley, Barstow, Hesperia, and Victorville area.
TIP: Material dimensions change with temperature, so place laminate flooring in the same room as it will be installed in and allow 72 hours for it to "acclimate" before installing it.
Visit Carpet Corral Today For A Design Consultation

Style and Design
Varying the thickness and composition of the various layers, the width of the planks, and of course the decorative surface gives you a huge number of choices.  So visit any of our showrooms — Barstow, Hesperia, or Apple Valley — to take a look.  And our showroom staff will be happy to answer questions and help you narrow down your options.
You'll have a choice of just about any wood look you might want such as beech, cherry, mahogany, maple, merbau, oak, walnut, and others.  The latest premium products even feel like hardwood grain, with your choice of varying depths of texture.  Other simulated materials such as bamboo are also available, as are faux ceramic tile, marble, slate, and stone.
TIP: Humidifiers also make your home feel more comfortable. And dehumidifiers add to comfort and reduce the odds of developing a mold problem.
There's also a few things you shouldn't do. Don't wet or damp mop, and turn off any beater bar or rotary brush on your vacuum. Nor should you use a steam cleaner or other floor-cleaning appliances. With today's finishes providing protection and sheen you should not use any kind of wax or buffing machines. Likewise no oil soaps (including those with citrus, lemon, or silicone oils). Never use ammonia, steel wool, or metal scouring pads for cleaning or any combination of cleaner plus polish.
That may seem like a lot to keep in mind, but once everything's properly set up you won't have to think much about protecting your investment. There's no need to become paranoid about the care and maintenance of your wood floors. One of the reasons they can last for generations is that they can be repaired. Starting with a full 3/4″ thickness uneven wear, scratches, and even minor gouging, cupping, and warping can be sanded out and the floor refinished.
Laminate Floor Care and Maintenance
Laminates are truly low maintenance.  Their floor care consists of just vacuuming or dust mopping.  Although scratch and moisture resistant you do need to dry spills immediately and it's a good idea to place floor mats at doorways.  Furniture does indeed cause scratches, so use glides or cushioned bottoms on their legs.